10 Thousand Design Creates Memorable Pop-up Fishing Experience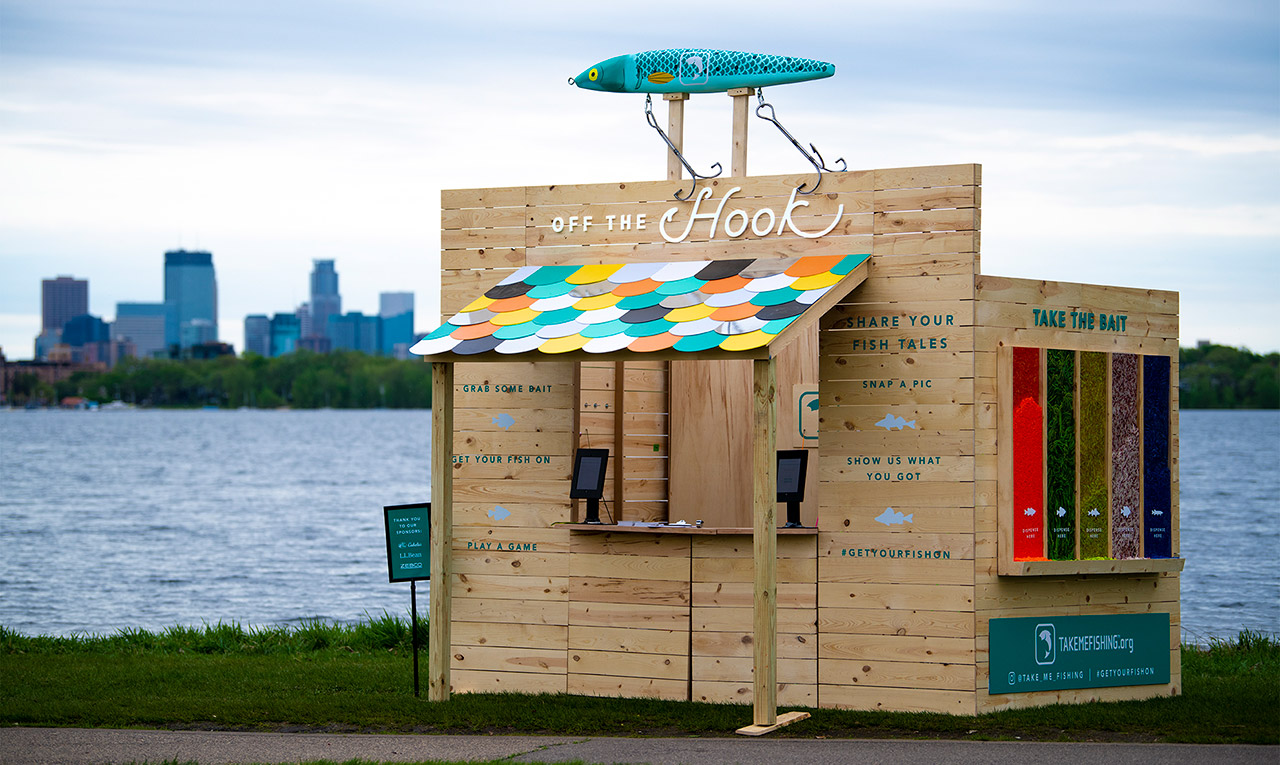 by 10 Thousand Design
May 24, 2019
10 Thousand Design, along with Colle McVoy and Exponent PR, recently launched the dynamic Off the Hook program with client partner Take Me Fishing. Off the Hook is a free, outdoor pop-up experience traveling to select cities across the U.S. this summer to bring the joys of fishing to people of all ages and show just how easy it is to get out fishing. 10 Thousand Design created the playful, fun, touchable displays that attract people to the exhibit and inspire Instagram-worthy photos.
"The experience is equipped with everything people need to try fishing. The look and feel is colorful and approachable to appeal to kids, yet modern and shareable for people of all ages," said Kelly O'Halloran, the senior designer who oversaw production. "The illustrations are whimsical and fantastical to communicate the joy and wonder of fishing."
The experience includes a cabin-like Bait Shop with roof tiles that replicate fish scales and a 12-foot-long giant shiny lure posted on its peak to entice people into the area. Along the sides are numerous please-touch-me, and photogenic motifs. One dispenses multi-colored plastic soft bait. Another features a mosaic of vibrant wood lures. And the back wall is a vivid illustrated mural of freshwater fish. Other elements include a faux canoe display, fishing accessories to use in photos, fish-themed snacks and an area to measure your height against images of  3- to 6-foot fish.
Kicking off in Minneapolis, the mobile experience will travel to New York City (May 31 through June 2), Washington, D.C. (June 7 through June 9) and other cities to be announced. Visit takemefishing.org for the latest updates. Take Me Fishing is an initiative of the Recreational Boating & Fishing Foundation, a national leader in the fishing and boating industry.