Welcome to the Age of Design Doing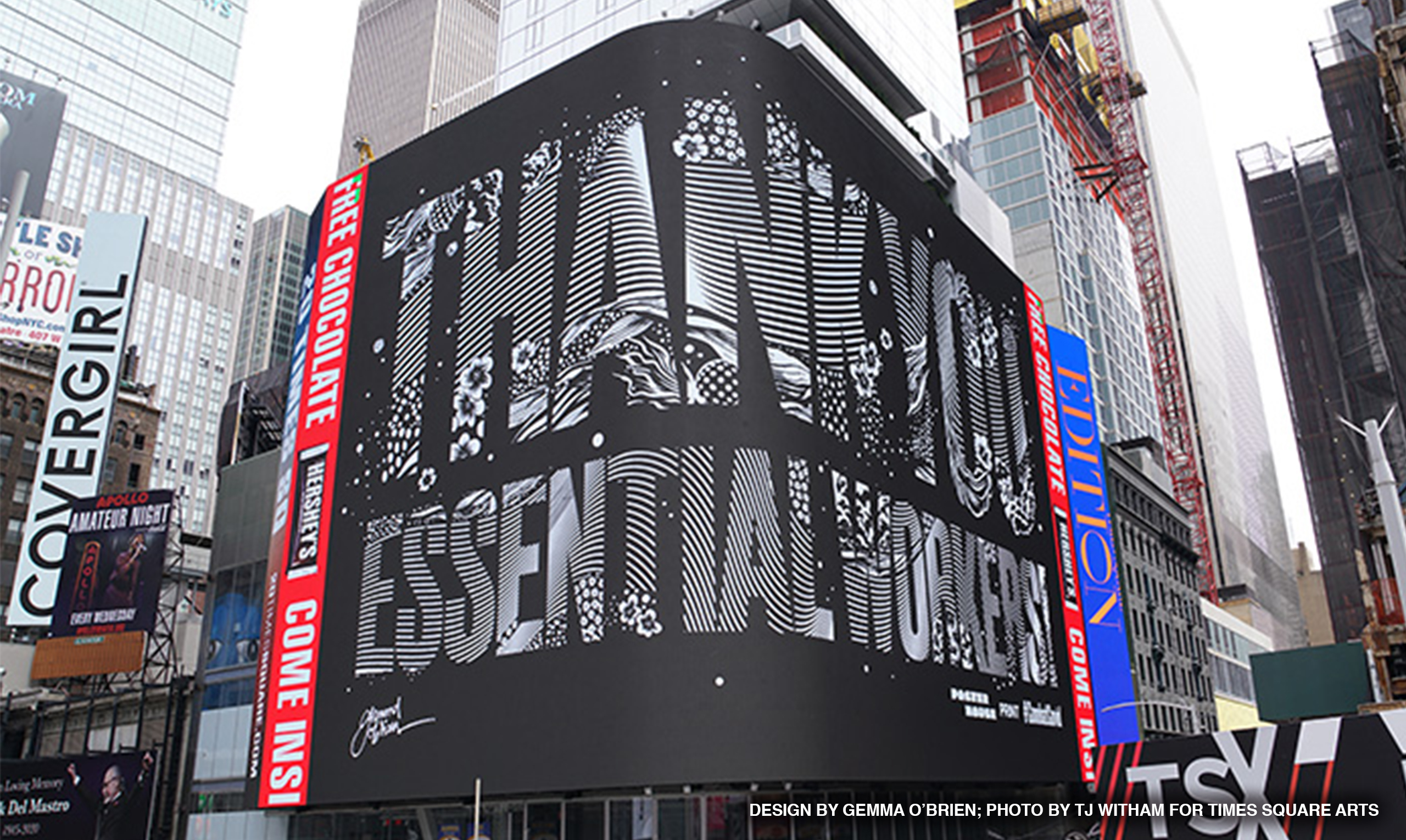 by Kristin Woxland
May 07, 2020
The state of our world and the collective fight against the coronavirus pandemic has taught us so much so quickly about who we are and who we have the power to be as people, as communities and as brand builders.
For a while now, our industry has been promoting the importance of brand action, where how a brand behaves — from sustainable sourcing to employee care to customer experience — is the truest measure of its worth. Our recent shared crisis has flung us fully into a new era of branding, where design is an operational imperative.
We call this Design Doing: using the process of design to uncover ways for brands to help service people and communities through action. Design has always been a process for solving problems and imagining new futures. Design asks us to think in systems, not silos. Design positions brands in service of meeting human needs. Design is an endeavor to make people feel a certain way, to make sense of information, to bring people together, to help keep people safely apart, to infuse order amid pandemonium or to propel humanity forward.
This is more critical now than ever before, as brands are expected to do even more. According to Edelman's special report Brand Trust and the Coronavirus Pandemic, six in 10 people across 12 countries including the United States agree: Our country will not make it through this crisis without brands playing a critical role in addressing the challenges we face.
But how? Actions will be different for every brand and should consider what can be achieved in both the short-term and long-term. Keep in mind that not all actions need to be gigantic undertakings like transforming your production facilities to make personal protective equipment. The smallest actions, when designed with intention, can feel huge. An easy curbside pickup process can provide emotional relief to a busy father trying to get dinner on the table for his kids who've been e-learning all day. Here are a few stellar examples of Design Doing in action amid the coronavirus crisis.
     Problem to Solve: Elevate health and safety practices to help people feel more at ease
     Design Doing: Redesign the employee and guest experience through operational change
The brand experience of our client partner Target goes far beyond the store itself, especially right now. Not only has Target implemented contact-free Shipt delivery, order pickup and drive-up services in addition to limiting store hours and occupancy rates to allow for ample sanitation and social distancing, but the retailer has also increased wages and health benefits for its team members, who've become community heroes. Team members are also provided with protective face masks and gloves. Target is designing through every interaction a shopping experience that is safer and more convenient than ever before.
Times Square Artist Collaboration
     Problem to Solve: Address the urgent desire for community and compassion amid collective distress
     Design Doing: Use the power of visual design to transform public spaces into uplifting canvases
To combat COVID-19, we must come together as we stay apart. We must show care, respect and love for one another. In New York City, a collaboration between Print magazine, Poster House, For Freedoms and Times Square Arts is bringing the voices and talents of visual artists and graphic designers to Times Square and across digital display kiosks in all five boroughs. The graphic messages range from gratitude for essential workers to reminders to respect the six-foot rule to stay-at-home encouragement — all full of heart and humanness to uplift passersby during this difficult time.
     Problem to Solve: Hold graduation celebrations in the midst of school closures
     Design Doing: Design a net-new virtual graduation experience for everyone
Students everywhere have been separated from their friends, teachers and classmates during the crisis. This is especially heartbreaking for this year's graduates, who must celebrate apart from their academic community and social circles. In service of the brands' mission to bring people closer together, Facebook and Instagram announced they are designing a new virtual graduation experience through their platforms. They're partnering with celebrities, as well as with high schools and colleges across the country, to celebrate the class of 2020 featuring a commencement address by Oprah Winfrey and a musical performance by Miley Cyrus.
What these brands have in common is a strong commitment to purpose and a propensity toward action. Below are considerations to help you and your teams start Design Doing to create a more purpose-led and action-forward future for your brand.
Take a look at evolving experience expectations outside of your category. Assess which brands are setting the bar for delivery services, streaming events, product demonstrations or any interaction that may be relevant to your brand's relationship with its audience. Learn from other companies doing it best and determine how to apply those high experience standards to your brand interactions.
Plot moments that matter for people across your total brand system. A brand is the sum total of every interaction people have with it. That means you have to expand the scope of your problem-solving by partnering with people from across disciplines and outside of your organization or industry. Our design teams typically consist of designers, creative technologists, brand strategists and user experience specialists — to name a few — so that we can truly rally around the user and create integrated solutions. Figure out the diverse mix of people you need and join forces.
Break down the barrier between digital and physical for good. The brands that have fared best during this unprecedented time are those that have committed to a physidigital design process and robust digital infrastructure. Target's future-proofing actions over the past several years, such as the acquisition of Shipt delivery service, made its transition to helping guests amid this health crisis much easier than it would have been otherwise. As we transition back into physical environments, interactions between people must be reconsidered and likely mediated or enhanced with digital tools.
Here's to designing new futures through Design Doing to become even stronger as brands, as communities and as people.