DEI Progress Report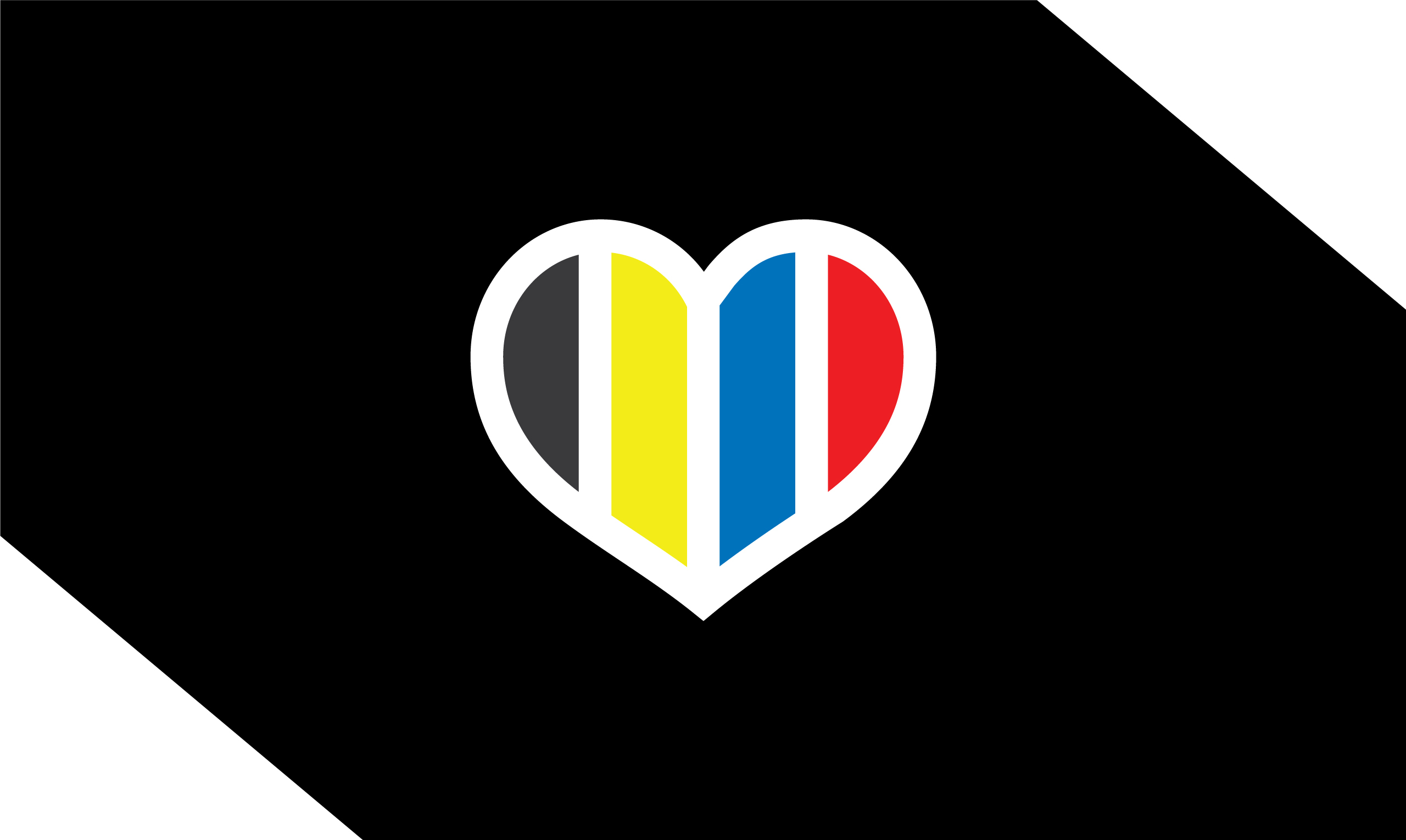 by 10 Thousand Design
July 15, 2021
10 Thousand Design and Colle McVoy believe that our diversity, equity and inclusion (DEI) efforts are not only the right thing to do, but they're essential to advance our agency and clients to their next. They are also a business imperative to better serve our employees, community and clients. Our approach is broader than just building a more diverse talent pool. It's holistic and affects every part of the agency by ensuring equitable practices, talent retention, employee training and development, vendor selection, creating work that reflects the world in which we live and partnering with clients that share our values.
A year ago, we recommitted to six initiatives to better champion change inside and outside our walls. We also embarked on a comprehensive DEI action plan that details goals for each of these commitments. We formed a Culture Leadership Team to oversee the plan and hold us accountable. We acknowledge this is an ongoing journey that requires dedication and commitment from everyone at the agency. Here's a look at our progress.
1. Challenge our goals:
Last year we set out to better define our goals for diverse recruitment, retention and professional advancement as well as to monitor and communicate our progress. We sought input and accountability from our Inclusion Council (IC) and employees.
Today, DEI remains a business imperative across the agency and a nonnegotiable, strategic process infused at all levels. Not only has our agency set long-term diversity objectives and goals, but each of our departments has set their own goals and always considers diversity in all growth strategies. We ensure teams are accountable, and staffing demographics data is one of the benchmarks we use to track and measure progress. We've shared our progress numerous times throughout the year, including publishing our data in July 2020. Here's an update as of July 2021: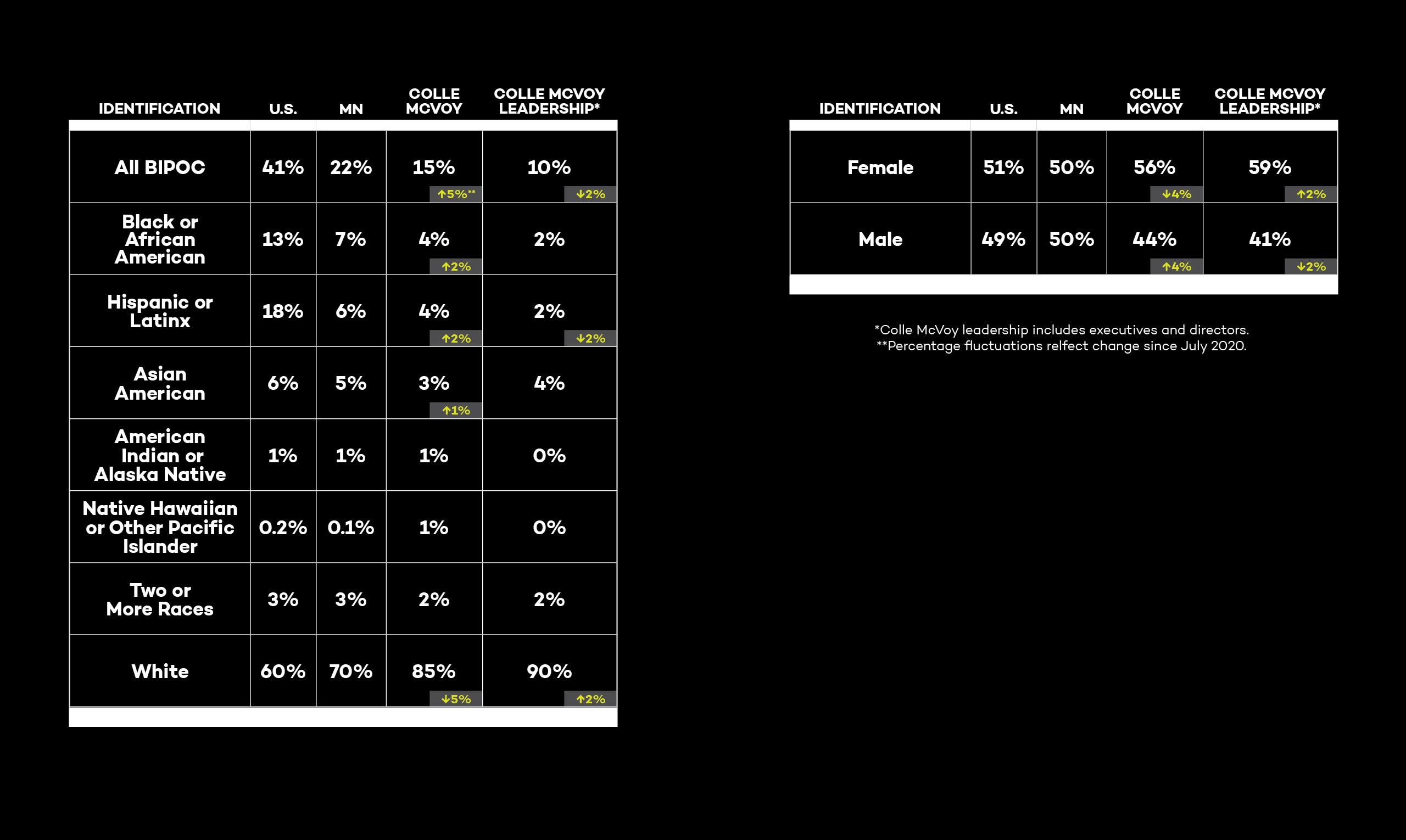 2. Recruit and elevate
Last year we set out to recruit more BIPOC employees at all levels across the agency and to mentor, champion and advance BIPOC employees into senior roles.
This past year we've scrutinized and reassessed our hiring, retention and advancement practices. We hired a new talent and acquisition and DEI manager focused on helping us reach our goals. We've adjusted the recruiting process to ensure more BIPOC candidates are being interviewed for each open position. As a result, 40% of new hires have been BIPOC employees. We've modernized our job offerings to make sure they're more inclusive, and we're bringing our job listings to BIPOC communities through new posting sites like Diverse Creatives, Handshake and Black Creatives and to recent graduates and alumni at historically black colleges and universities (HBCUs).
We are revising the agency mentorship program with consideration to BIPOC employee experience. Over the last year, 15% of promotions at the agency have been BIPOC employees and 63% have been female employees.
3. Educate and inspire
Last year we set out to conduct more anti-racism training for managers and the agency at large and to foster more honest and open internal conversations while listening to, learning from and amplifying the voices of our BIPOC colleagues.
This past year, we hosted numerous opportunities for all staff to continue their journeys of unlearning a step further, including participation in the 4A's Workplace Enlightenment Certification program. This robust program is designed to help move us toward the highest standards of equity and inclusion. We evolved our staff-led IC to expand its leadership and further its impact. Throughout the year, the IC identified learning opportunities and helped celebrate our cultural differences by highlighting multicultural holidays and important dates focusing on six points of difference — age, race, gender, sexuality, religion and disability. Larger activations have also been produced to celebrate and honor month-long observances like Black History Month, Mental Health Awareness Month, Asian American and Pacific Islander Heritage Month and Pride Month. For each of these months, the IC created forums to broaden staff awareness and knowledge of these topics.
4. Engage, invest in and partner
Last year we set out to expand our 10-year partnership with The BrandLab (TBL) and our long-term relationship with the 4A's Multicultural Advertising Intern Program (MAIP) to help deepen their impact. We also wanted to form stronger ties with ADCOLOR and HBCUs to further widen our network.
This past year we worked side-by-side with TBL on numerous programs, including to galvanize local ad and PR agencies to publicly join the #CommitToChange movement for more transparency in staffing demographics data. Our CCO continues to serve as chair of the board of directors, which recently selected a new CEO to continue to fuel TBL's mission and growth.
We've strengthened our decade-long partnership with the 4A's and support of its MAIP. Together with Exponent PR, we partnered with five other local public relations agencies to launch the Twin Cities PR BIPOC Career Explorer, an externship program designed for BIPOC students interested in the practice of PR and communications in the Twin Cities. We've initiated relationships with a handful of HBCUs through career fairs and introductions to marketing programs that we intend to deepen in years to come.
We have also deepened probono engagements, such as a unique partnership with Little Free Library. Together we developed Read in Color, an international initiative to amplify BIPOC and LGBTQIA+ voices and foster understanding, empathy and inclusion for all by delivering diverse books to Little Free Library book-sharing boxes worldwide.
5. Support the community
Last year we set out to commit to nonprofit, non-industry organizations in the Twin Cities to create lasting change such as taking actions to amplify their voices and support Black- and minority-owned businesses.
During the last twelve months we supported staff members who took time off to volunteer, clean up and raise funds in Minneapolis after the social unrest last summer. We matched these funds and donated more than $25,000 to local organizations such as We Love Lake Street, Restoration North, Urban Ventures, Black Visions Collective and Voices for Racial Justice.
We also partnered with the Metropolitan Economic Development Association to strengthen its resources so it can better champion BIPOC-owned small businesses and help entrepreneurs succeed.
We further deepened our ongoing partnership with Houston White, who inspires pride in his North Minneapolis community and strives to bring together people of all identities, races, cultures, backgrounds and neighborhoods. We've helped build Houston's brands as well as supported his efforts to transform his barbershop into a community hub, including the Get Down Coffee Co.
6. Influence the work
Last year we set out to partner with like-minded clients to create purposeful work that promotes DEI. We know diversity of thought and lived experiences is critical to creating ideas that impact a diverse culture and result in fresh and relevant ways to connect with the broadest communities.
Today we are having more robust discussions internally and with our clients regarding cultural insights and diverse perspectives to produce work that drives business growth. We've formalized our Brand Citizenship practice to help brands find authentic roles in connecting us as a community, taking a stand, enriching lives and bettering the world. We've promoted partnerships with vendors who share our values and ensured that BIPOC-owned companies are well represented on our preferred vendor, supplier and partner lists.
We recognize these efforts are part of an ongoing journey to create change. We'll continue to share our progress in the hopes of inspiring others.